There are no more items in your cart
Shipping

Free

Total

€0.00
Price
€825.00
Regular price
€1,650.00
 Last items in stock
CONTENUTI RIVISTA ELABORARE n. 0 (66 pagine a colori)Questo è il numero "zero" distribuito solo su ROMA nell'anno 1995
Price
€41.70
Regular price
€139.00
 In stock
All sale products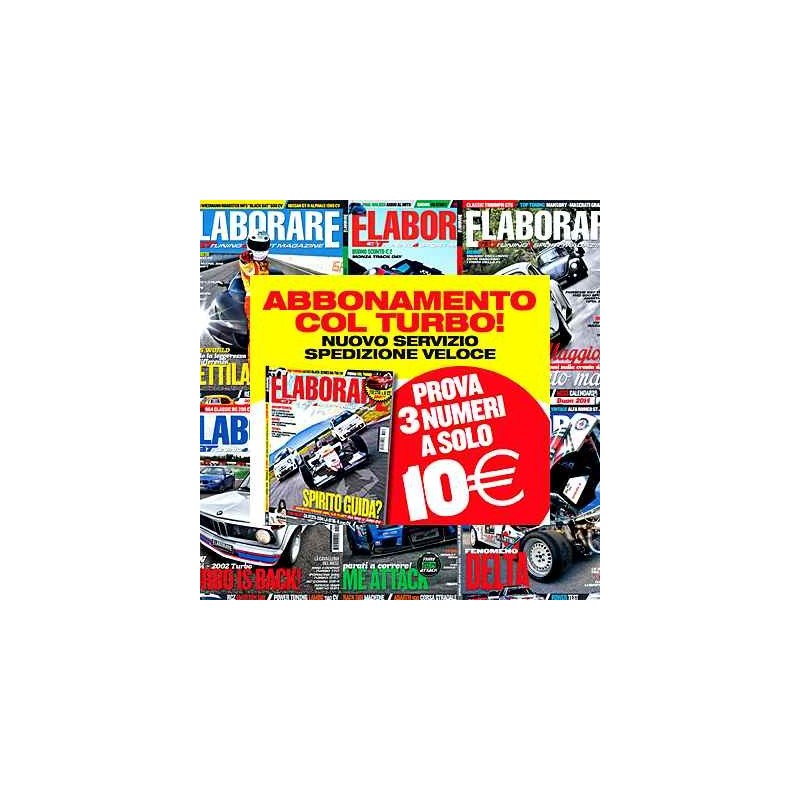  
Abbonamento Turbo - Elaborare 3 numeri
Description
Abbonamento a tre numeri della rivista Elaborare
Reviews
No customer reviews for the moment.
10 other products in the same category:
Black Friday  offerta con Elaborare! Abbonamento alla rivista di auto sportive 11 numeri ad un prezzo scontatissimo
Price
€20.00
Regular price
€30.00
 In stock
Regala un abbonamento al magazine Elaborare + Cartolina/avviso segnalatrice 
Offerta DOPPIO ABBONAMENTO 1 anno a 2 riviste ELABORARE (mensile) 11 numeri + ELABORARE 4x4 (bimestrale) 6 numeri  (ULTIMO NUMERO IN EDICOLA ELABORARE) (ULTIMO NUMERO IN EDICOLA RIVISTA ELABORARE 4x4)
ELABORARE magazine rinnovo abbonamento a prezzo scontato per chi ha già sottoscritto un abbonamento in passato. 
Offerta DOPPIO ABBONAMENTO 1 anno a 2 riviste ELABORARE (mensile) 11 numeri + ELABORARE Classic (semestrale) 2 numeri 
11 numeri del magazine ELABORARE che vengono consegnati a casa direttamente attraverso il servizio di consegna veloce Premium Press di Poste Italiane.  Tempistica di consegna da 4 a 7 giorni dall'uscita del nuovo numero.   Il pagamento è possibile tramite Paypal, Carta di Credito o bonifico Bancario (l'IBAN viene fornito alla conclusione dell'Ordine)
Price
€20.00
Regular price
€30.00
 In stock
ELABORARE n. 260 MAG-GIUGNO 2020, magazine rivista auto motori. ORDINALO QUI e la ricevi comodamente a casa in 2/3 giorni lavorativi
Abbonamento 1 anno 11 numeri alla rivista Elaborare + Chiavetta USB 16 GB
Abbonamento 1 anno ELABORARE, 11 numeri + Cappellino bianco con bordi rossi personalizzato con logo ELABORARE ricamato, taglia unica, 100% cotone, 5 pannelli