There are no more items in your cart
Shipping

Free

Total

€0.00
Price
€825.00
Regular price
€1,650.00
 Last items in stock
CONTENUTI RIVISTA ELABORARE n. 0 (66 pagine a colori)Questo è il numero "zero" distribuito solo su ROMA nell'anno 1995
Price
€41.70
Regular price
€139.00
 In stock
All sale products
 
Abbonamento magazine Elaborare 4x4 6 numeri con convenzione FIF 4x4
Abbonamento annuale alla rivista bimestrale Elaborare 4x4, 6 numeri 1 anno (compresa spedizione postale) con convenzione F.I.F. 4x4 - Federazione Italiana Fuoristrada 4x4
Description
Abbonamento annuale alla rivista bimestrale Elaborare 4x4, 6 numeri 1 anno (compresa spedizione postale) a prezzo scontato riservato ESCLUSIVAMENTE ai soci e Club iscritti alla Federazione Italiana Fuoristrada che possono usufruire di questo prezzo speciale solo grazie alla Federazione Nazionale Fuoristrada
Come usufruire dello sconto? Utilizzando il COUPON di sconto "FIF4x4
E' necessario comunicare il numero di tessera FIF valida per l'anno in corso nel quale si richiede all'abbonamento. 
PAGAMENTO ON LINE 
INSERIRE CODICE SCONTO "FIF4x4" (senza virgolette) per avere uno sconto di 10€ 
Si può pagare anche con bonifico o versamento postale. 
PAGAMENTO CON BONIFICO o BOLLETTINO POSTALE
Importo: 23€
Causale: abbonamento ELABORARE 4x4 "FIF4x4" (inserendo anche codice tessera
FIF) + dati indirizzo + cell. CONTO CORRENTE POSTALE
Versamento sul c/c postale n° 1024819557
intestato a: EUROMEDIA GROUP S.R.L.
Via Della Bufalotta, 378 – 00139 ROMA – Italia
-------------------------------
BONIFICO BANCARIO IT80F0760103200001024819557 Intestato a Euromedia Group srl
Comunicare avvenuto pagamento via mail abbonamenti@elaborare.org
(copertina ultimo numero in edicola)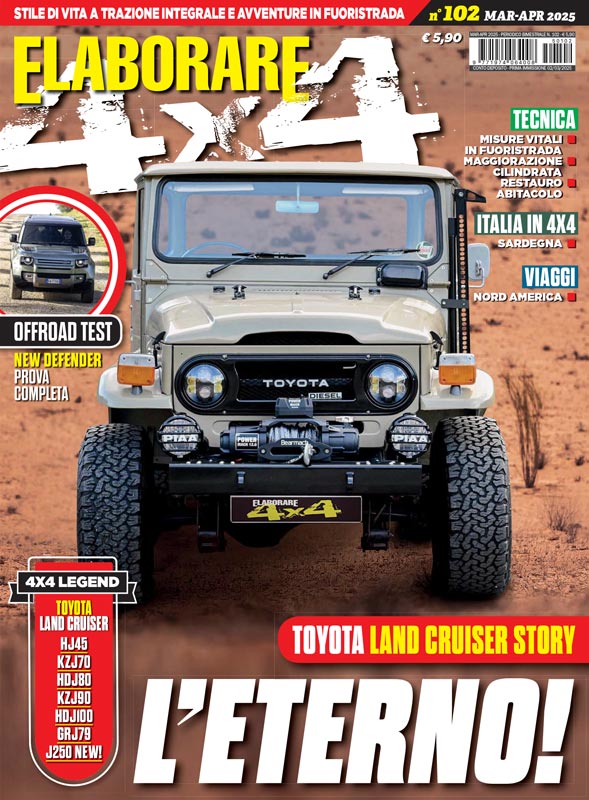 Reviews
No customer reviews for the moment.
7 other products in the same category:
Abbonamento annuale alla rivista bimestrale Elaborare 4x4, 6 numeri 1 anno, comprese spedizioni postali. 
Offerta DOPPIO ABBONAMENTO 1 anno a 2 riviste ELABORARE 4x4 (bimestrale) 6 numeri + ELABORARE Classic (bimestrale) 6 numeri 
ELABORARE n. 260 MAG-GIUGNO 2020, magazine rivista auto motori. ORDINALO QUI e la ricevi comodamente a casa in 2/3 giorni lavorativi
Abbonamento annuale alla rivista bimestrale Elaborare 4x4 x 6 numeri e chiavetta USB 16 GB.
Regalo abbonamento alla rivista ELABORARE 4x4 + Cappellino ELABORARE 4x4 con CARTOLINA/ AVVISO di segnalazione
Abbonamento alla rivista ELABORARE 4x4 (1 anno, 6 numeri) + cappellino personalizzato ELABORARE4x4