There are no more items in your cart
Shipping

Free

Total

€0.00
Price
€825.00
Regular price
€1,650.00
 Last items in stock
CONTENUTI RIVISTA ELABORARE n. 0 (66 pagine a colori)Questo è il numero "zero" distribuito solo su ROMA nell'anno 1995
Price
€41.70
Regular price
€139.00
 In stock
All sale products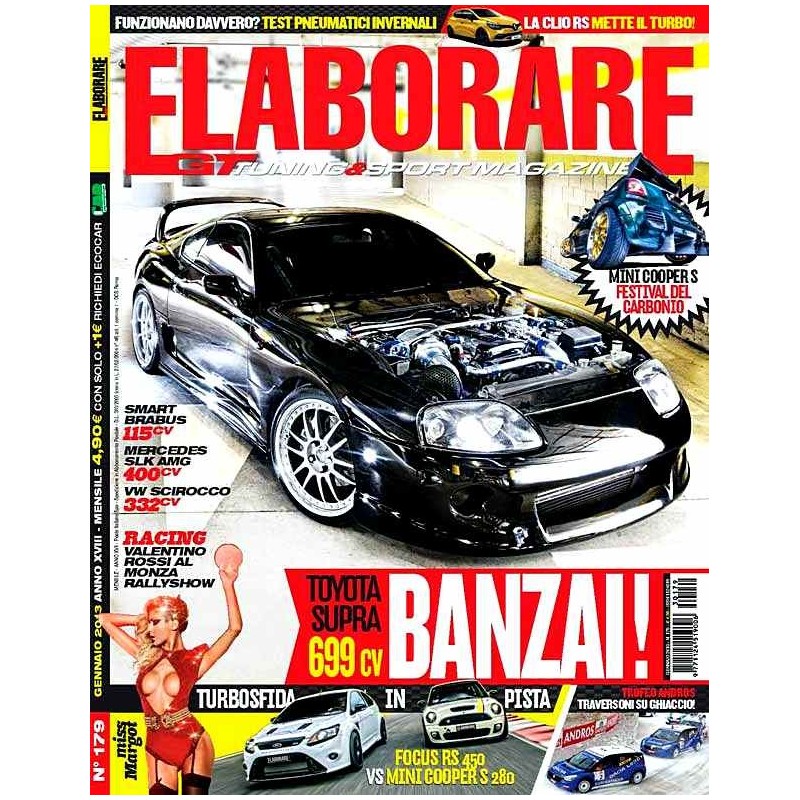  
Elaborare n.179 gennaio 2013
CONTENUTI RIVISTA ELABORARE n. 179 in edicola a GENNAIO 2013
Reviews
No customer reviews for the moment.
16 other products in the same category:
ELABORARE n. 258 in edicola a MARZO 2020, rivista magazine motori Abarth, (SOMMARIO COMPLETO)
Price
€2.70
Regular price
€9.00
 In stock
ELABORARE n. 67 NOVEMBRE 2002 Introvabile ElaborarE n°67 da collezione, uscito a novembre 2002.Tra i primi numeri della spettacolare rivista.  Su questo numero top tuning Audi TT ABT, Clio 1.8 16V, VW Lupo GTI, Seat Leon 1.9 TDI by , Honda Accord 2.0 VTEC by Turbocorse, Renault Clio RS 2.0 by Dido Racing, Audi TT 1.8 T Quattro by Domo Race, Toyota Hilux,...
Price
€2.40
Regular price
€8.00
 In stock
ELABORARE n. 252 in edicola a SETTEMBRE 2019(SOMMARIO COMPLETO)
Price
€2.40
Regular price
€8.00
 In stock
ELABORARE n. 240 in edicola a LUGLIO-AGOSTO 2018 con poster Ferrari!(SOMMARIO COMPLETO - Speciale auto per l'estate: Cabrio, Spider, Targa)
Price
€2.40
Regular price
€8.00
 In stock
CONTENUTI RIVISTA ELABORARE n. 209 in edicola a OTTOBRE 2015
Price
€2.40
Regular price
€8.00
 In stock
CONTENUTI RIVISTA ELABORARE n. 138 in edicola a APRILE 2009
Price
€2.40
Regular price
€8.00
 In stock
Il pagamento è possibile tramite Paypal, Carta di Credito o bonifico Bancario (l'IBAN viene fornito alla conclusione dell'Ordine)
Price
€2.40
Regular price
€8.00
 In stock
CONTENUTI RIVISTA ELABORARE n. 148 in edicola a MARZO 2010
Price
€2.40
Regular price
€8.00
 In stock
CONTENUTI RIVISTA ELABORARE n. 156 in edicola a DICEMBRE 2010
Price
€2.40
Regular price
€8.00
 In stock
Price
€2.40
Regular price
€8.00
 In stock
CONTENUTI RIVISTA ELABORARE n. 190 in edicola a GENNAIO 2014
Price
€2.40
Regular price
€8.00
 In stock
CONTENUTI RIVISTA ELABORARE n. 193 in edicola a APRILE 2014
Price
€2.40
Regular price
€8.00
 In stock
Il pagamento è possibile tramite Paypal, Carta di Credito o bonifico Bancario (l'IBAN viene fornito alla conclusione dell'Ordine)
Price
€2.40
Regular price
€8.00
 In stock
CONTENUTI RIVISTA ELABORARE n. 162 in edicola a GIUGNO 2011
Price
€2.40
Regular price
€8.00
 In stock
CONTENUTI RIVISTA ELABORARE n. 123 in edicola a DICEMBRE 2007
Price
€2.40
Regular price
€8.00
 In stock
ELABORARE n. 255 in edicola a DICEMBRE 2019(SOMMARIO COMPLETO)
Price
€3.30
Regular price
€11.00
 In stock