There are no more items in your cart
Shipping

Free

Total

€0.00
Price
€825.00
Regular price
€1,650.00
 Last items in stock
CONTENUTI RIVISTA ELABORARE n. 0 (66 pagine a colori)Questo è il numero "zero" distribuito solo su ROMA nell'anno 1995
Price
€41.70
Regular price
€139.00
 In stock
All sale products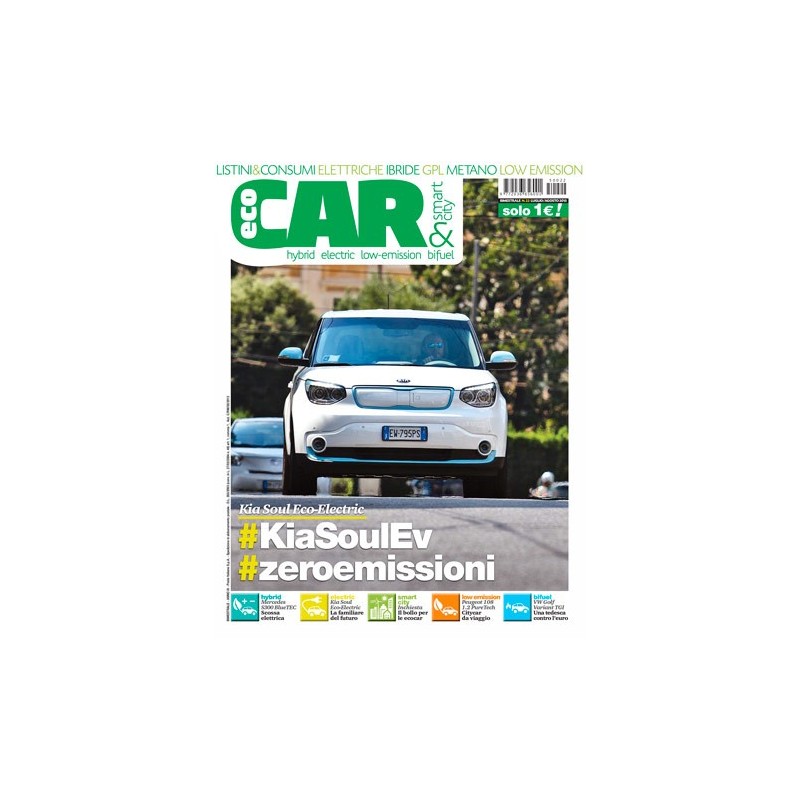  
Description
SOMMARIO ECOCAR N.22 LUGLIO/AGOSTO 2015
News DAL MONDO DELL'AUTO A conti fatti  QUANTO COSTA UN'AUTOMOBILE? Domande &Risposte IL PARERE DI ALESSANDRO SKERL Smart City News DAL MONDO Best practices • A PONZA IN TAXI ELETTRICO • IL CONVEGNO ANCI SULLA MOBILITÀ SOSTENIBILE • MOBY DIXIT A PALERMO • REGIONE CHE VAI BOLLO AUTO CHE TROVI • APOTECA NATURA SCEGLIE NV200 VAN E LA LEAF Test PEUGEOT 108 1.2 PURETECH 82 CV ALLURE Low Emission Test  GOLF VARIANT TGI BLUEMOTION Test KIA SOUL ECO-ELECTRIC Test MERCEDES S300 BLUETEC HYBRID Muoversi in città • CON L'APP A PARIGI ANCHE IN SCOOTER ELETTRICO • LE AUTO SARANNO SEMPRE PIÙ «CASE» Listino &Consumi PAGINE TOTALI 90, grafica e fotografia molto curate.
Reviews
No customer reviews for the moment.
16 other products in the same category:
CONTENUTI RIVISTA ELABORARE n. 115 in edicola a MARZO 2007
Price
€2.40
Regular price
€8.00
 In stock
INSERISCI NEL CARRELLO IL PRODOTTO, PROCEDI CON IL CHECKOUT, COMPILA I CAMPI INDIRIZZO RICHIESTI PER LA REGISTRAZIONE (se non sei ancora utente registrato) PROCEDI CON LA FINALIZZAZIONE DELL'ORDINE (GRATUITO)   ATTIVA LA NEWSLETTER OPZIONE 1 (altrimenti non ricevi le comunicazioni di altre offerte....)    RICEVI SULLA TUA MAIL IL LINK DOVE SCARICARE IL...
CONTENUTI RIVISTA ELABORARE n. 202 in edicola a FEBBRAIO 2015
CONTENUTI DI QUESTO NUMERO Elaborare 4x4 n.064 Novembre-Dicembre 2018 con omaggio Catalogo Traction4x4
Price
€4.00
Regular price
€8.00
 In stock
CONTENUTI RIVISTA ELABORARE n. 137 in edicola a MARZO 2009
Price
€2.40
Regular price
€8.00
 In stock
CONTENUTI RIVISTA ELABORARE n. 119 in edicola a LUGLIO-AGOSTO 2007
Price
€2.40
Regular price
€8.00
 In stock
Price
€4.00
Regular price
€8.00
 In stock
CONTENUTI RIVISTA ELABORARE n. 120 in edicola a SETTEMBRE 2007
Price
€2.40
Regular price
€8.00
 In stock
CONTENUTI RIVISTA ELABORARE n. 106 in edicola a MAGGIO 2006
Price
€2.40
Regular price
€8.00
 In stock
CONTENUTI RIVISTA ELABORARE n. 174 in edicola a LUGLIO-AGOSTO 2012
Price
€2.40
Regular price
€8.00
 In stock
CONTENUTI RIVISTA ELABORARE n. 145 in edicola a DICEMBRE 2009
Price
€2.40
Regular price
€8.00
 In stock
Price
€4.00
Regular price
€8.00
 In stock
CONTENUTI RIVISTA ELABORARE n. 230 in edicola a SETTEMBRE 2017
Price
€2.40
Regular price
€8.00
 In stock
Price
€4.00
Regular price
€8.00
 In stock
CONTENUTI RIVISTA ELABORARE n. 149 in edicola a APRILE 2010
Price
€2.40
Regular price
€8.00
 In stock
CONTENUTI RIVISTA ELABORARE n. 146 in edicola a GENNAIO 2010
Price
€2.40
Regular price
€8.00
 In stock