There are no more items in your cart
Shipping

Free

Total

€0.00
Price
€825.00
Regular price
€1,650.00
 Last items in stock
CONTENUTI RIVISTA ELABORARE n. 0 (66 pagine a colori)Questo è il numero "zero" distribuito solo su ROMA nell'anno 1995
Price
€41.70
Regular price
€139.00
 In stock
All sale products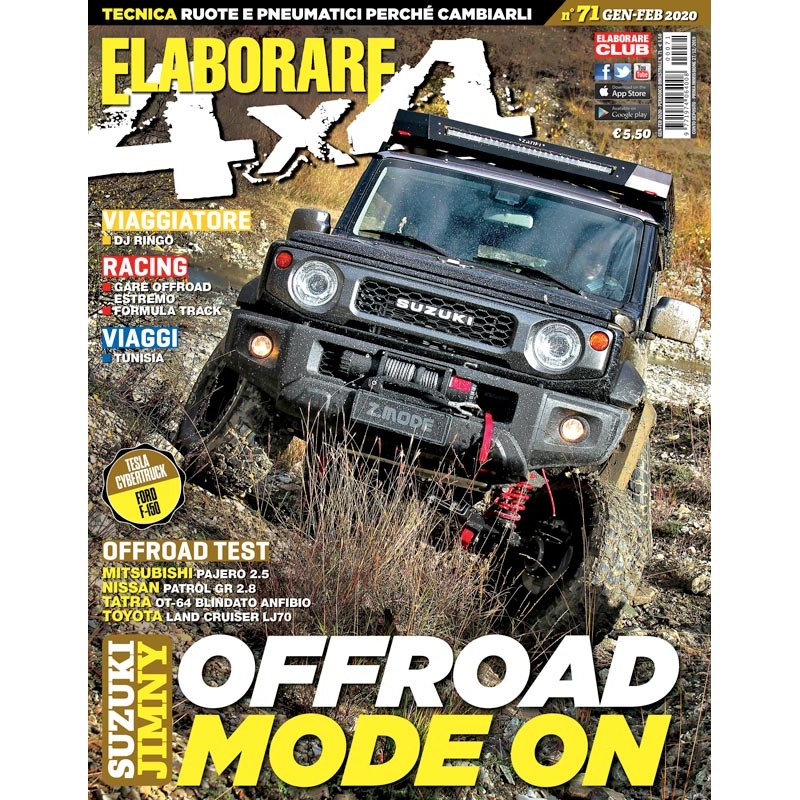  
Elaborare 4x4 n.071 Gennaio-Febbraio 2020
CONTENUTI DI QUESTO NUMERO Elaborare 4x4 n. 71 Gennaio-Febbraio 2020
Description
CONTENUTI DI QUESTO NUMERO Elaborare 4x4 n. 71 Gennaio-Febbraio 2020
Posta
Filo diretto con la redazione
News
Accessori 4x4: 4x4 altimeter e cerniere in acciaio inox by Land Rover Team, innovativo tavolo da portellone by Suntop, nuovo Defender in mattoncini Lego, accessori outdoor per Suzuki Jimny by Suzuki Italia, molle paraboliche per Toyota Hilux by Terrain Tamer, torcia ricaricabile by Varta, rollbar smontabile per Suzuki Jimny by Sassa Roll-Bar, batteria portatile di nuova generazione by Dometic, freni offroad Brembo by Motorquality, portapacchi e pneumatici Toyo e Nitto by Off Quattro, compressori 4Technique, cappottine best top per nuovo Jeep Wrangler JL by Traction4x4, cerchio Braid Winrace per Land Rover e sistema di scarico in acciaio inox by Totani, linea accessori outdoor Raptor 4x4 by Saglietti, scarico completo per nuovo Suzuki Jimny by Z.Mode.
Factory
Motorquality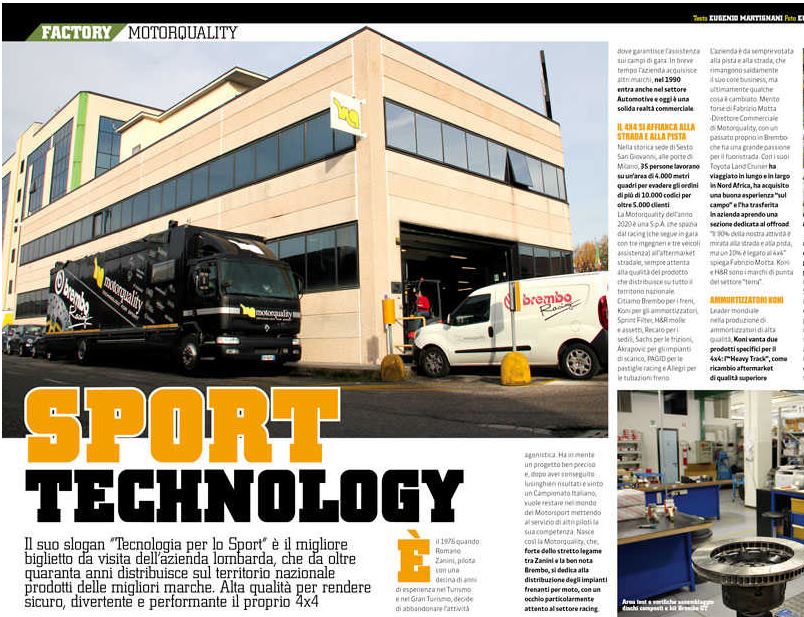 Tecnica
Pneumatico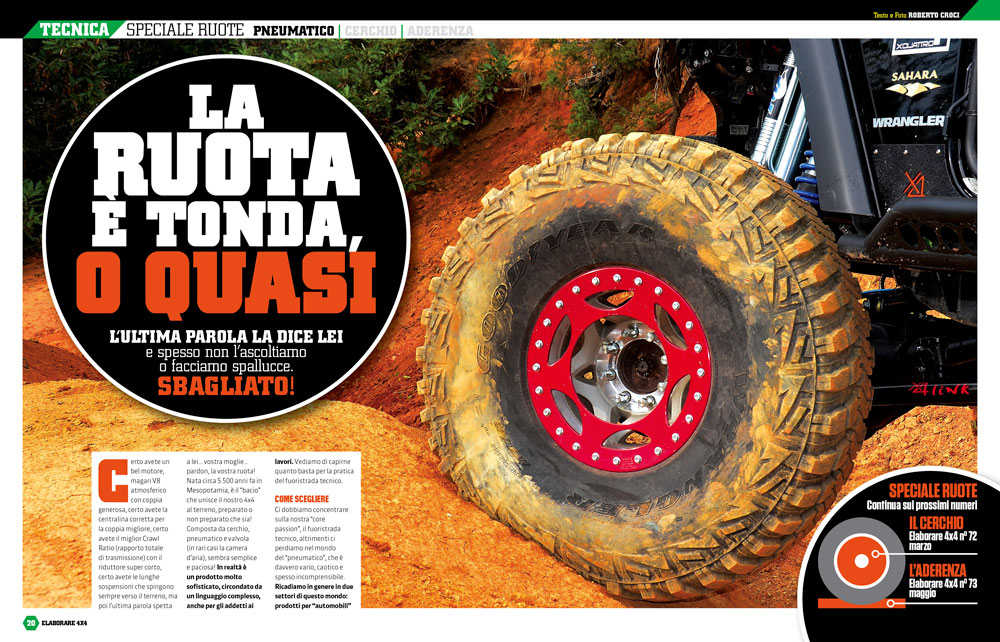 Test e preparazioni tecnica 
Toyota Land Cruiser LJ70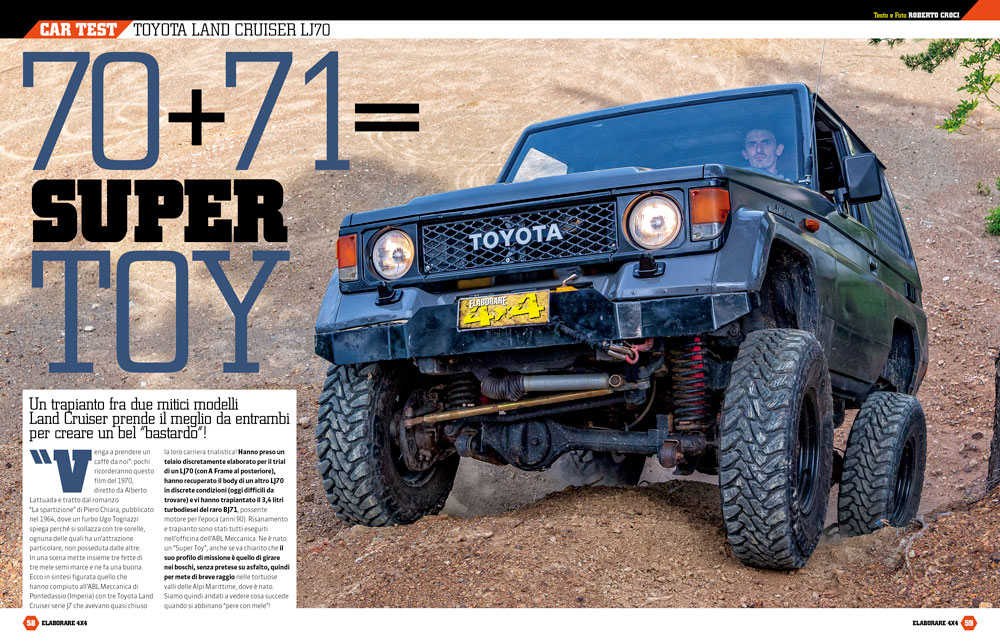 Suzuki New Jimny Jonnys Brothers Edition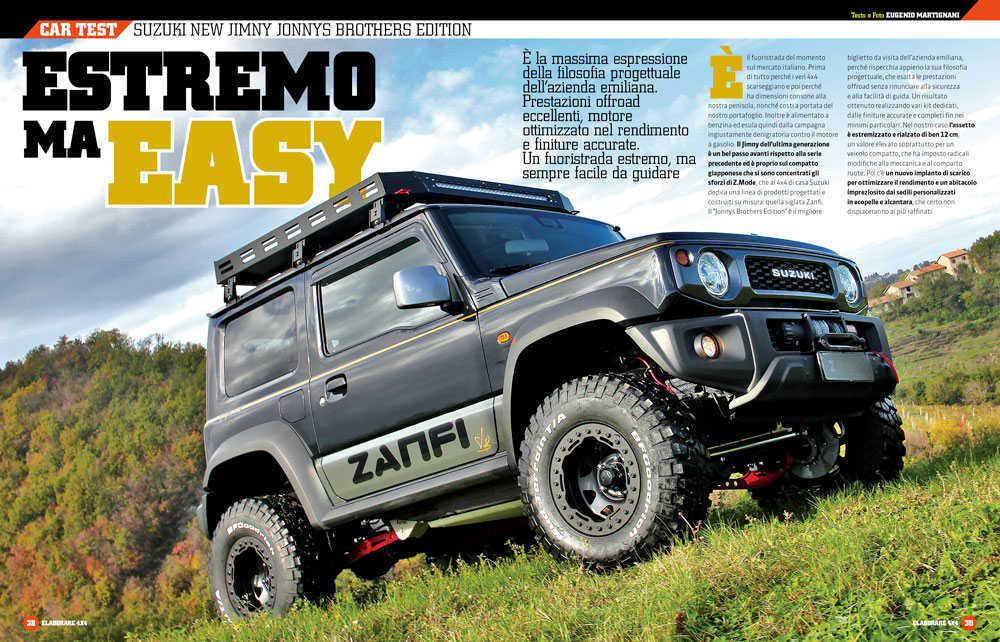 Mitsubishi Pajero 2.5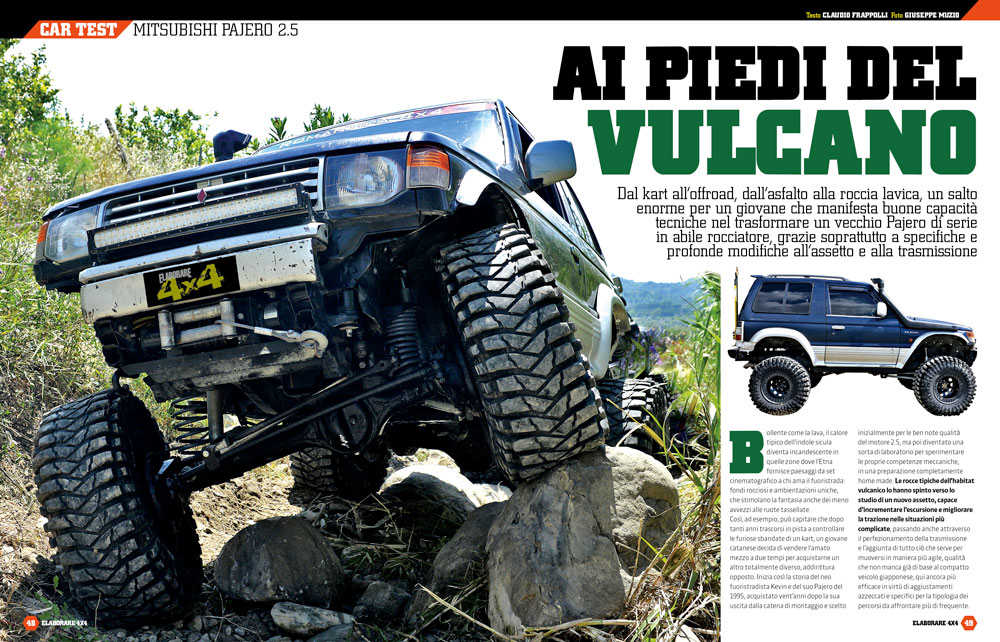 Nissan Patrol GR 2.8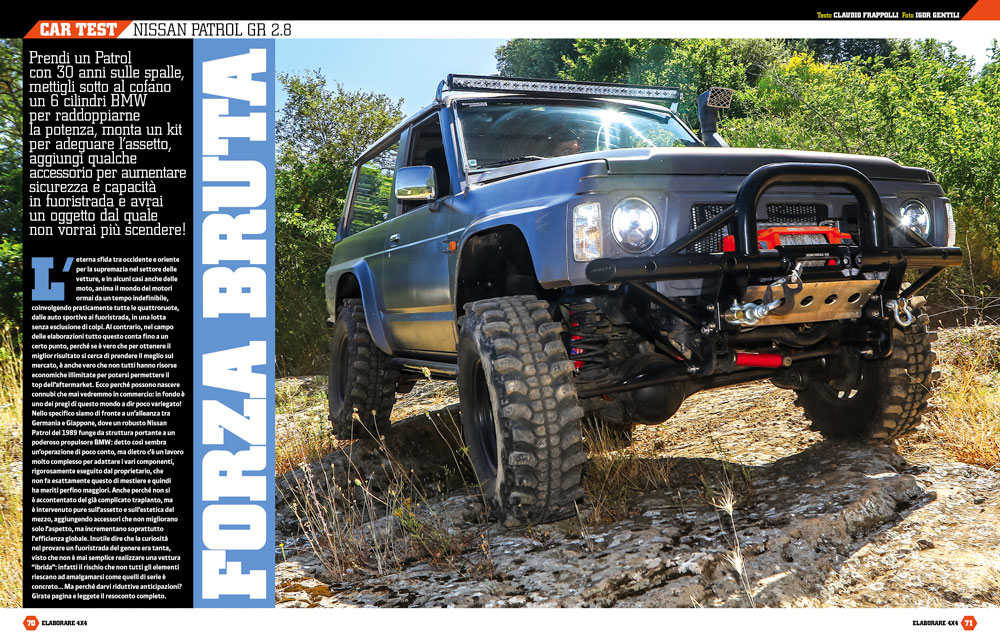 Tatra OT-64 Blindato Anfibio
Il viaggiatore
DJ Ringo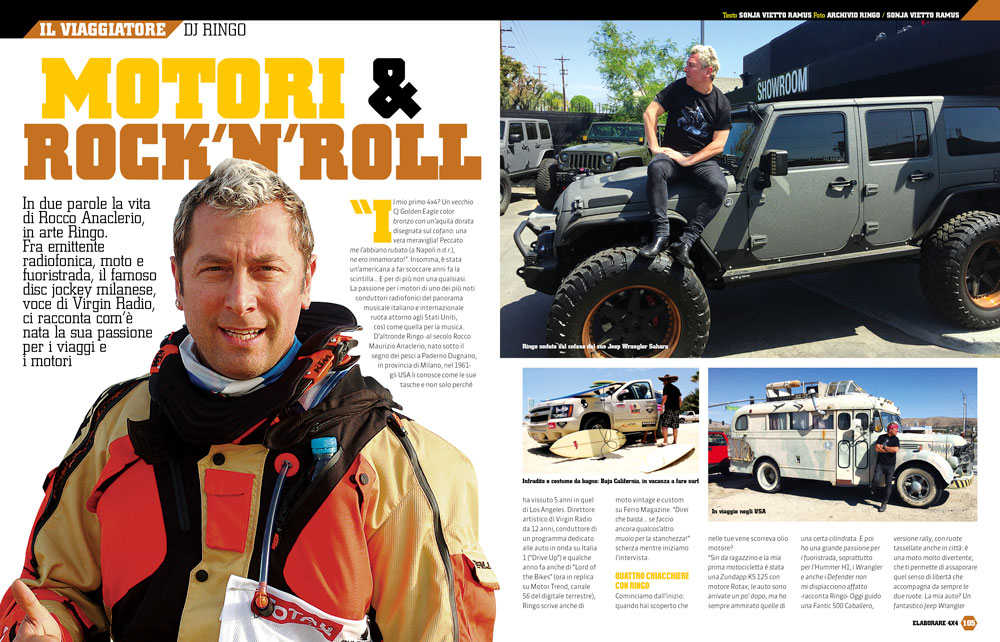 Competizioni
Formula Track - Finale
 
Finale XTC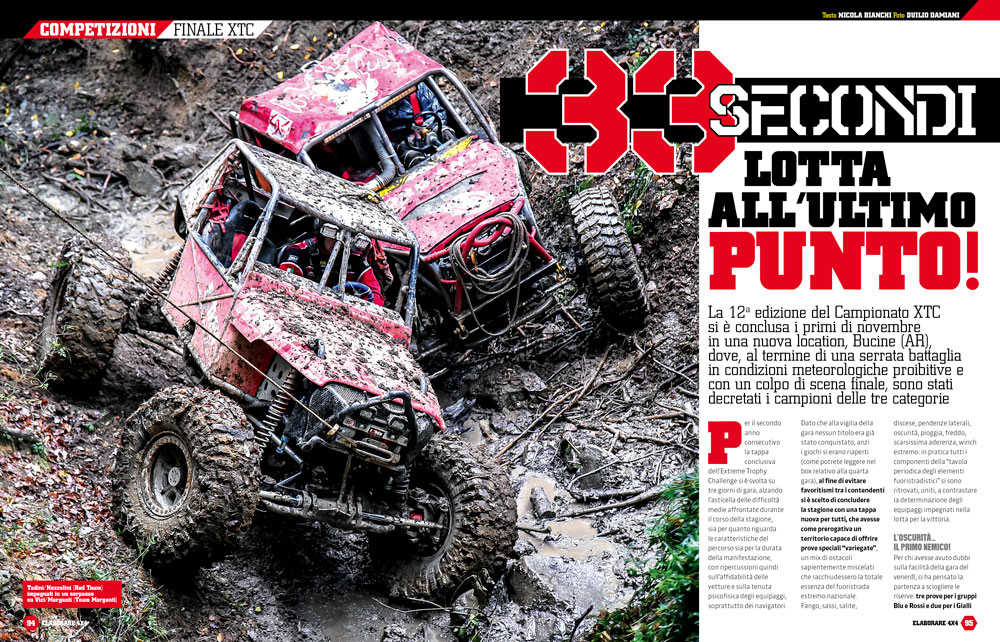 Finale Trofeo Extreme Off Road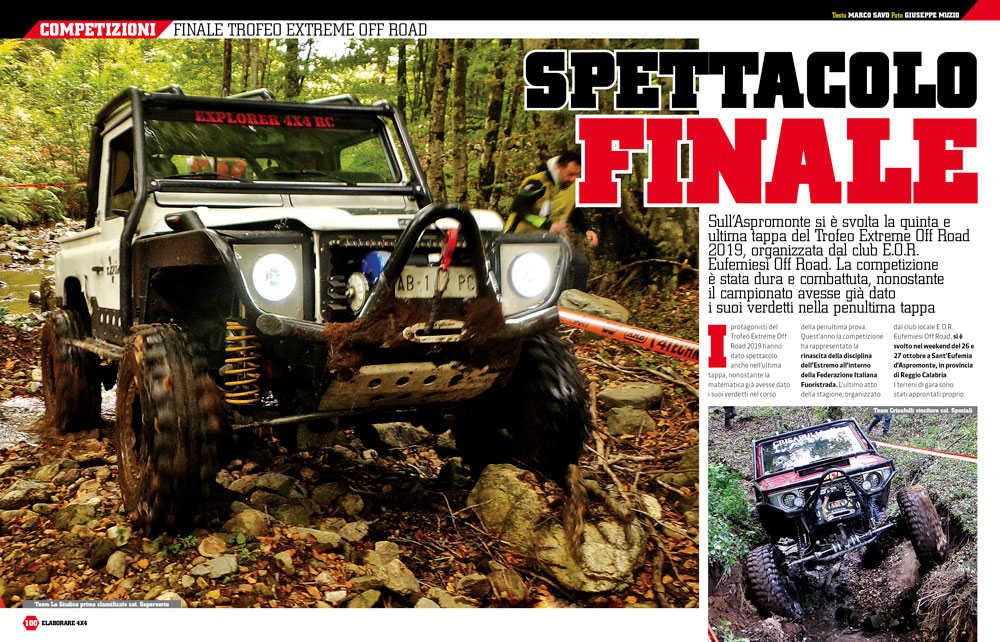 Viaggi - Tunisia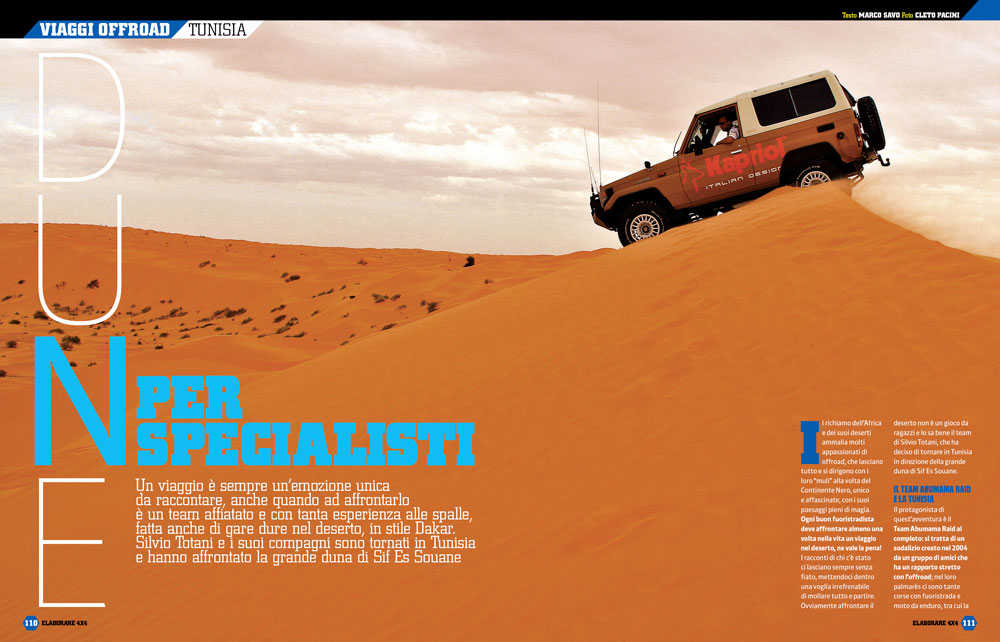 Club house
Spiriti liberi in 4x4
Jeep Renegade Italia Forum's Group
Land Rover Team
Club Fuoristrada Vicenza
Raduni sprint
Newsauto.it
Tesla Cybertruck vs Ford F-150
Subaru Forester e-BOXER
Planet Offroad
News dal mondo dell'offroad
Offroad people
Calendario Club-Viaggi 
Database
SCARICA l'APP digitale di ELABORARE 4×4
 APPLE STORE e GOOGLE PLAY
ABBONAMENTO ALLA RIVISTA ELABORARE 
COME ABBONARSI ALLA RIVISTA OFF ROAD ELABORARE4x4
INFORMAZIONI QUI
CONTATTI
ARRETRATI Tel 06/91.51.66.02 (dalle 14.00 alle 18.00) arretrati@elaborare.org
ABBONAMENTI Tel  039/99.91.541 (Lun./Ven. 9/13 e 14/18)
abbonamenti@elaborare.org
Product Details
Data sheet
CONDIZIONE

NUOVO
Reviews
No customer reviews for the moment.
You might also like
Abbonamento annuale alla rivista bimestrale Elaborare 4x4, 6 numeri 1 anno, comprese spedizioni postali. 
16 other products in the same category:
Price
€4.00
Regular price
€8.00
 In stock
Price
€4.00
Regular price
€8.00
 Out-of-Stock
Elaborare 4x4 n.015 settembre-ottobre 2010
Price
€6.00
Regular price
€12.00
 In stock
CONTENUTI DI QUESTO NUMERO Elaborare 4x4 n.069 Settembre-Ottobre 2019
Price
€4.00
Regular price
€8.00
 In stock
Price
€4.00
Regular price
€8.00
 In stock
INSERISCI NEL CARRELLO IL PRODOTTO, PROCEDI CON IL CHECKOUT, COMPILA I CAMPI INDIRIZZO RICHIESTI PER LA REGISTRAZIONE (se non sei ancora utente registrato) PROCEDI CON LA FINALIZZAZIONE DELL'ORDINE (GRATUITO)   ATTIVA LA NEWSLETTER OPZIONE 1 (altrimenti non ricevi le comunicazioni di altre offerte....)    RICEVI SULLA TUA MAIL IL LINK DOVE SCARICARE IL...
Price
€4.00
Regular price
€8.00
 In stock
Elaborare 4x4 n. 73 Maggio-Giugno NEW!!  NEW!!!
Price
€4.00
Regular price
€8.00
 In stock
Elaborare 4x4 numero 34 Novembre-Dicembre 2013 con tanti bei mezzi, Mercedes G 300, Toyota KZJ 70, Suzuki Proto SJ V8, Nissan Patrol GR Y61 e tanto altro... 
Price
€4.00
Regular price
€8.00
 In stock
Price
€4.00
Regular price
€8.00
 In stock
Price
€30.00
Regular price
€60.00
 Last items in stock
Price
€4.00
Regular price
€8.00
 In stock
Price
€4.00
Regular price
€8.00
 In stock
Price
€4.00
Regular price
€8.00
 In stock
CONTENUTI DI QUESTO NUMERO Elaborare 4x4 n. 72 Marzo-Aprile 2020
Price
€4.00
Regular price
€8.00
 In stock
Price
€4.00
Regular price
€8.00
 In stock